1.
Evoken – Atra Mors:
The masters of desolate funeral doom returned in 2012 with arguably their best work to date.
Atra Mors
is cold, desolate, and painfully beautiful. Masterfully crafted and paced, Evoken deserve your time, money, and first born. Doom or be doomed.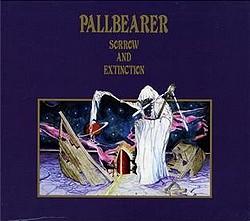 2.
Pallbearer – Sorrow & Extinction
:
Sometimes a band deserves the hype surrounding them, and Pallbearer's
Sorrow & Extinction
is proof of that. Punishing doom coupled with gorgeous vocal harmonies and sweeping crescendos makes this album an absolute joy to experience.
3.
Indesinence – Vessels of Light and Decay:
Death and doom merged with care; in 2012 Indesinence showed the metal world that they still matter.
Vessels of Light and Decay
is a punishing slab crushing doom with just enough death to appease even the most discerning fans.
4.
Knelt Rote – Trespass:
Knelt Rote has been around for a number of years and somehow they never showed up on my radar, but that changed in 2012 when the band released
Trespass
via Nuclear War Now! To say that these PDX death merchants are pushing the boundaries of grind wound be a gross understatement. Listen and be converted.
5.
Windhand – Windhand:
Stoner metal done oh so right! Windhand's debut album is the kind of record that will have you banging your head and raising your fists to the dark one. Black Sabbath meets Electric Wizard without sounding like a clone of either. Brilliant.
6.

Mgla – With Hearts Toward None:
Beautiful, icy, droning, melodic black metal from Poland. Mgla absolutely crushed the black metal competition this year.
7.

Eagle Twin – The Feather Tipped The Serpent's Scale:
This follow-up to 2009's
The Unkindness of Crows
is a continuation of the story they began on their debut. On
The Feather…
Eagle Twin sound mightier than ever and their understanding of power and grace is something to behold. There isn't another band in the world that sound like Eagle Twin, and there likely never will be.
8.

Hell – Hell III:
This album was a late arrival on my list, but after a week of constant spinning I can comfortable say that Hell do justice to their name.
Hell III
is a droning masterwork of blackened doom.
9.

Anhedonist – Netherwards
: These Seattle doomsters have long been a favorite of mine and 2012's
Netherwards
was exactly what I wanted it to be. Galloping death fused together with mournful doom,
Netherwards
hits you like a warhammer and offers you up to the gods of old.
10.

Ash Borer – Cold of Ages:
Perhaps the most interesting American black metal band currently working, Ash Borer combine hypnotic riffs that drone in the distance with howls that make your flesh crawl.
Cold of Ages
is the most suiting title this frostbitten amalgam of neo-second wave black metal.
11.

Ufomammut – Oro: Opus Alter
12.

Profetus - …to Open the Passages in Dusk
13.

Samothrace – Reverence to Stone
15.
Ævangelist -
De Masticatione Mortuorum in Tumulis
16.

Incantation – Vanquish in Vengeance
17.

Dawnbringer – Into the Lair of the Sun God
18.

Neurosis – Honor Found in Decay
19.

Inter Arma – Destroyer
20.

Faustcoven – Hellfire and Funeral Bells
21.

The Secret – Agnus Dei
22.

Satanic Bloodspraying – At the Mercy of Satan
23.

Lord Mantis – Pervertor
24.

Pseudogod – Deathwomb Catechesis
25.

Aldebaran – Embracing the Lightless Depths
27.

Mongrel's Cross – The Sins of Aquarius
28.

Pig Destroyer – Book Burner
29.

Wolvserpent – Perigaea
30.

Panopticon – Kentucky
31.

Weapon – Embers and Revelations
33.

False/Barghest – Split
34.

NIGHTSLUG – Demo 2012
35.

Atriarch – Rituals of Passing
36.

Occultation – Three & Seven
38.

High on Fire – De Vermis Mysteriis
39.

Pact – The Dragon Lineage of Satan
40.

Hooded Menace – Effigies of Evil